Most of the instant messenger provides sound alerts when any buddies are online or offline but there is no option to set different alerts of different buddies. For e.g if you have  Skype messenger with contact list of business buddies, college friends, family members. You might want to set different alert for  business buddies to have highest priority than others. But such options are not provided in Skype.
Here is VoiceGear Contact Alerter for Skype which can let you to do the same. VoiceGear Contact Alerter for Skype is a small and easy to use Skype Extras plugin that can help you stay in touch with all of your Skype contacts.
Features of VoiceGear Contact Alerter for Skype
1. Contact Status Alerts – VoiceGear Contact Alerter for Skype lets you select for which of your Skype contacts you would like to receive status notifications when they change their online Skype status. You can even define individual Skype status for which notifications will be presented.
2. Auto Chat – Ever wanted to say something to your friend or colleague, but they are Away, Not Available or in Do Not Disturb mode and you have to run out? Well, now you can. Simply enable a contact alert for your Skype buddy and type in a chat message. Your chat message will be sent to your contact whenever they switch their Skype status to Online.
3. Text Popup and Sound Notifications – You can choose between text popup and/or sound alerts for status notifications. You can switch between static and fading popup messages or define your custom sound to be played whenever your contact alert is triggered.
4. Contact Reminders – Use VoiceGear Contact Alerter for Skype to set individual contact reminders. Contact reminders will show up as text popups whenever your contacts change their online status.
5. Last Seen Status Info – Using VoiceGear Contact Alerter for Skype you can easily view the last time your contact was seen online. This can be especially useful when planning an occasional chat or a follow up call with your business partners or customers, who you don't speak to on a regular basis.
VoiceGear Contact Alerter for Skype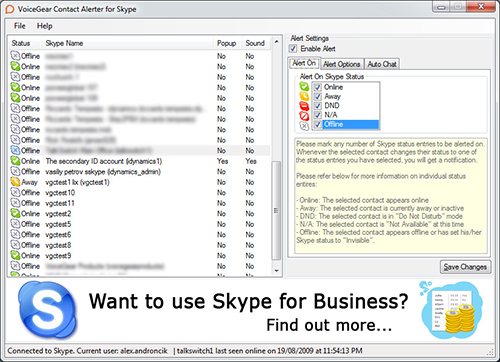 Download VoiceGear Contact Alerter for Skype.
Check out: Run Multiple Instant Messenger
Similar Posts: