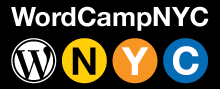 WordCamps are great events. It's where users of WordPress that are local to the area can all get together in one place to share tips, talk strategy, and share knowledge with each other. However, putting these events together takes time and an incredible amount of hard work, as shown by Steve Bruner's post on the WCNYC blog:
When you have 70+ speakers and volunteers working for gratis, you start out $2,500 in the hole. And when attendees started registering like crazy, it really was a double-edged sword. While registration was beginning to reflect the fruits of our labor, and the hype was building, my little budget spreadsheet was blinking red with every registration. I was laying out money for shirts, bags and food, and the sponsors weren't showing up
For those that are willing to go through all of the trouble of putting a WordCamp together, I salute you!