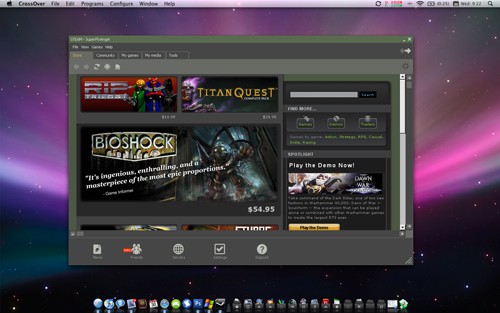 We reported not too long ago about clues and then some semi-officially images hinting at the possibility of popular developer Valve's online gaming service Steam coming to the Mac. However, today Valve has made the official announcement that, indeed, Steam will be coming to Mac OS X in April. With it the developer and gaming platform will open up the doors to would be Mac gamers and provide them with some truly great titles including Half-Life 2 and Left 4 Dead 2. There will also be other Valve catalog games coming to the Mac including Counter-Strike, Team Fortress 2, and Portal. (Yes, the image above shows Steam running on OS X through virtualization software CrossOver. Hopefully a native Mac UI is in the works for it's launch in April) "As we transition from entertainment as a product to entertainment as a service, customers and developers need open, high-quality Internet clients," said Gabe Newell, president of Valve. "The Mac is a great platform for entertainment services."
Director of business development at Valve, Jason Holtman had this to say about Steam coming to Macs, "Steamworks for the Mac supports all of the Steamworks APIs, and we have added a new feature, called Steam Play, which allows customers who purchase the product for the Mac or Windows to play on the other platform free of charge," Holtman said. "For example, Steam Play, in combination with the Steam Cloud, allows a gamer playing on their work PC to go home and pick up playing the same game at the same point on their home Mac. We expect most developers and publishers to take advantage of Steam Play."
AppleInsider was lucky enough to get an interview with director of Steam development John Cook and asked him about Apple's involvement as well why the decision to move the platform to Mac OS X after so long. Here's a snippet of the interview.
Have you been working with Apple, or received any help from them?
Cook: Yes, we've been working with them a bunch as we get more acquainted with their platform. They've been a great partner so far and we look forward to growing our relationship with them over time.
What prompted the decision to support the Mac after Valve has for years been outspoken about its frustration with Apple?
Cook: As an industry we are going through a transition of entertainment as a product to entertainment as a service. This places a bunch of requirements on the platforms – specifically being an open, high-quality Internet client. The recent announcement of Portal 2 that was done in cooperation with the Steam community is a good example of that. The Mac is a very attractive platform for entertainment as a service.
Similar Posts: