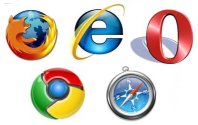 If you noticed the links provided with in application or program always opens in Internet Explorer irrespective of default browser which you have set with current user profile. Many users do not want the links to open other than the default browser they have set.
Here is small utility Browser Chooser which intercepts your attempt to open link from an application or program and allows you to choose which browser to use.  Browser Chooser has low memory footprint and doesn't take taskbar space.
Browser Chooser
Download Browser Chooser to set Default browser for URLs.
Similar Posts: