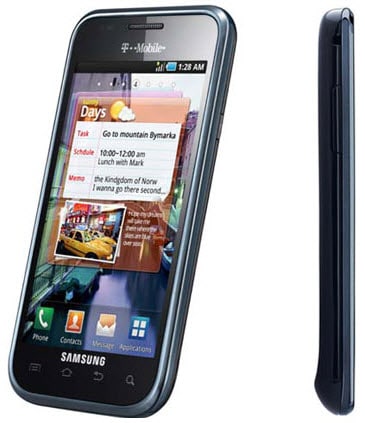 Samsung recently announced the Android 2.2 powered Galaxy S 4G. This handset is the 4G variant of the popular Galaxy S smartphone. Samsung already managed to sell more than 10 million units of the Galaxy S and it is the only Android device to cross 10 million milestone. The Samsung Galaxy S 4G will be exclusively available on the airwaves of T-Mobile in the US.
"With Galaxy S 4G, T-Mobile will deliver its fastest smartphone yet on America's largest 4G network, providing rich entertainment virtually whenever and wherever consumers want," said Cole Brodman, chief marketing officer, T-Mobile USA. "And with 4G data plans from $10 per month, we're making blazing-fast 4G speeds and super smartphone experiences easily accessible to the millions who crave them."
Samsung Galaxy S 4G comes with a Super AMOLED touchscreen display, Android 2.2 (FroYo) operating system, 1 GHz processor, 5 megapixel camera, 4G Connectivity, Wi-Fi, Bluetooth, microSD card slot, up to 32 GB expandable memory, 3.5 mm headphone jack, Android Market, FM Radio, A-GPS and more. The complete specs of this handset is not available yet.
According to T-Mobile, the Galaxy S 4G will be the fastest smartphone and the company's first smartphone capable of delivering download speeds of up to 21 Mbps. The price and release date of this device is still unknown. But, we can safely assume that the device will be priced at $199.99 with a 2 years service agreement. Stay tuned for more updates, regarding this powerful smartphone.
[ Image Credit ]
Similar Posts: