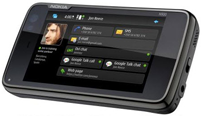 Nokia N900 is the first flagship device from Nokia with Maemo OS, it is almost like a tablet computer. It's the first open source handset to use Maemo 5 platform and ARM cortex-A8 powerful processor supports multi-tasking and has fastest cellular connectivity (10/2 HSPA and WLAN).
Nokia Maemo OS was originally named Internet Tablet OS and it is based on Debian Linux distro. Innovation and Linux are the two sides of coin and here the video which shows how power Linux based operating system are.
Following video shows dual booting Nokia N900 Maemo & Google Android OS.
Nokia N900 Maemo & Android in Dual Boot
This is first of its kind where mobile phone running multiple OS in dual boot mode like our traditional PCs can do. We are sure Linux geeks definitely want to own this gadget.
Similar Posts: