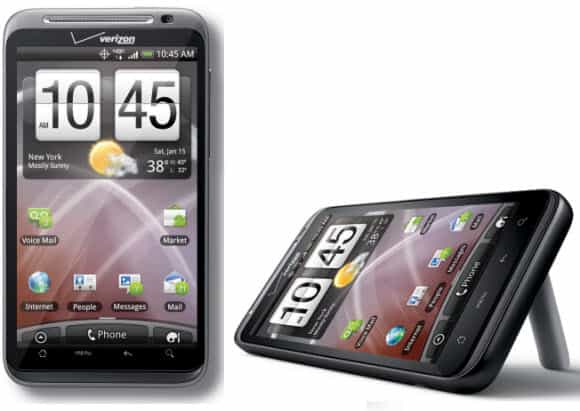 HTC recently announced the much awaited HTC Thunderbolt smartphone. This handset will be exclusively available on the airwaves of Verizon Wireless in the US. HTC Thunderbolt runs the older version of the Android operating system. It is one of the first smartphones to integrate the Skype mobile with video calling. This handset comes with the 4G LTE connectivity. Verizon customers can expect download speeds of 5 to 12 Mbps and upload speeds of 2 to 5 Mbps in 4G Mobile Broadband coverage areas.
"We are proud to not only be bringing one of the first 4G LTE Android smartphones to the Verizon Wireless network, but to offer people the unprecedented speed and ease of use that the HTC ThunderBolt provides to them. What makes 4G so compelling is not just technology, but what the technology allows people to do. With HTC ThunderBolt and the Verizon Wireless 4G LTE network, 4G is brought to life as people stay connected with friends, family and content faster than ever before possible," said Jason Mackenzie, president of HTC Americas.
HTC Thunderbolt Specifications

:
4.3 inch WVGA display
480 x 800 pixels resolution
Android 2.2 (FroYo) OS
1 GHz Snapdragon processor
HTC Sense 2.0 with Fast Boot
Built-in kickstand
Wi-Fi
4G LTE Connectivity
Bluetooth 2.1 with EDR
8-megapixel camera
HD (720p) video recording
Dolby Mobile
SRS surround sound
Mobile Hotspot capability
MicroSD card slot
32 GB expandable memory
32 GB microSD card included
3.5 mm headset jack
Fully integrated Skype
DLNA streaming multimedia support
The DLNA capability in the HTC ThunderBolt allows you to stream and share multimedia content directly with compatible home theater components, including HDTVs and stereo receivers which comes with the built-in DLNA support. The price and availability of this handset has not been announced yet.
Similar Posts: