Cricket Communications Inc., one of the leading wireless services provider, announced the first ever to offer unlimited music on a fixed wireless rate plan. The new innovative digital music service is tagged as "Muve Music" which will mark its debut at the upcoming Consumer Electronics Show (CES) 2011 in Las Vegas.
According to company officials, Muve Music service would be the first music experience specifically designed for the mobile phone. The company feels excited to share the mobile music experience, connecting fans to the artists they love in a unique and innovative way.

Doug Hutcheson, President and CEO Cricket Communications, stated:
Cricket was the first to introduce an unlimited wireless rate plan and now we are the first to introduce a new unlimited wireless rate plan that includes unlimited music. With Muve Music, Cricket is bringing together the best of wireless and music in a way no one has ever done before. Our recent experience with smartphones has shown us that the right products offered at the right price will be successful with value-oriented customers. We are excited and confident that Muve Music will provide a superior mobile experience for customers who want to create a personal music experience without being tethered to a computer. The result of our collaboration with the music industry during the past two years allows unlimited music downloads, ringtones and ringback tones to be included in a wireless service for a flat monthly rate. We believe the high quality Muve Music experience is the right product at the right time for value oriented customers.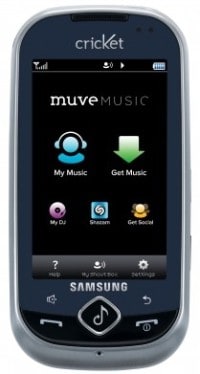 For just $55 per month, users would be able to benefit from the following features on Cricket's Nationwide 3G network:
1. Unlimited nationwide calling
2. Unlimited nationwide text, picture & video messaging
3. Unlimited global text messaging
4. Unlimited 3G mobile Web
5. Unlimited email
6. Unlimited data back up
7. Unlimited video
8. Unlimited full track downloads
9. Unlimited ringtones
10. Unlimited ringback tones
Muve Music include a catalog of music content which includes music from four major record labels, including Universal Music, Warner Music, Sony Music Entertainment and EMI Music.
via [Reuters]
Similar Posts: