If you are an Android phone user looking for ways to enrich his/her smartphone experience by using some great applications, then today's list of mine is for you. I have gathered 5 Android applications which I feel help out the Android smartphone user in a variety of ways.
Read on about each entry and let me in the comments what you think.
(*Note: Apart from links are available, these applications can be searched for and gotten from the Android Market which you can access with you cellphone.)
The constant connection of our phone with WiFi and internet services uses up a lot of our phones battery unnecessarily. JuiceDefender is a great application that turns off our internet connections and then on again on our Android handsets. Not only does this save battery but also keeps away those sporadic email and other notifications which distract us from other tasks at hand.
2. Urbanspoon
Urbanspoon's Android app is a kind of restaurant slot machine. Just shake the phone and the wheels will spin until they settle on a good nearby restaurant for you. You can also lock down the neighborhood, cuisine and price you are interested in. Keep spinning until you get a restaurant you want to try.
3. TuneWiki
TuneWiki lets us view the lyrics of the songs being played on our Android phone. My favorite feature of this application is that it syncs the lyrics with the song so we view the lyrics currently being song. The accuracy of the lyrics was remarkable and I was quite impressed.
4. ToggleSettings
ToggleSettings is a control-panel-type of application which is a must-have for all Android phone owners. It gives us quick and easy access to all our settings in one simple screen. Having used it once and realizing how important it is, you will wonder why it does not come with Android in the first place.
5. MissedCall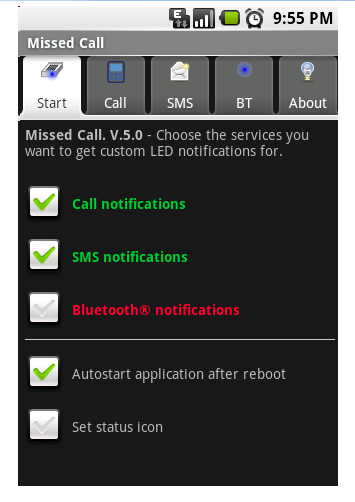 To check our missed phone calls or notifications of any other sort, we need to turn on the screen of our phone. Missed Call, lets users customize the LED notification light so that it blinks in the event of a missed call, text message or even an active Bluetooth Connection. Using this application, Android users can more easily tell if there are any notifications for them to check.
Similar Posts: