fesbuk is, yet another Facebook-like WordPress theme. Comes with features like author profile page, custom author thumbnail and profile pic, etc.
Fixed width, widget ready and gravatar ready two column theme
BLANK is a WordPress theme with all the functionality of a typical WordPress theme but almost none of the styling. The idea is that when starting a new theme, it is far easier to use this as a base then a theme that is already finished and styled.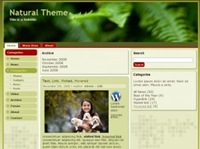 Natural Theme is a free WordPress Theme 980px wide with two Sidebars a 160px and 300px (Adsense) and 5 Widget Positions: Left, right, top below navigation (whole wide), top of postings and below postings, and there is also an Option Page to populate the Footer.