While WeblogToolsCollection.com focuses on all things WordPress, it's healthy to get out of the house every once in awhile to see what else is going on in the world. In this instance, the world is Open-Source Content Management Systems. Water and Stone which is a digital agency has released their annual open source CMS market share survey for 2010. This survey was comprised of 5,000 participants with more than 2,800 completing the full questionnaire. The report contains a look at various metrics and trends for 20 different content management systems. While the results of the survey are not definitive, there are some interesting trends specifically with WordPress that I wanted to share.
Water and Stone used Amazon.com to determine who has the largest number of books in print, which systems have been the subject of publishing activity in the last 12 months, and which systems are currently the subject of books yet to be printed. While I knew WordPress had a big year in terms of books available, I had no idea how many books there were.
The other thing I found interesting in this report is their metric of search engine ranking. Water and Stone used the following keywords in Google, Yahoo! and Bing to see which systems made it in the top 30 results: content management system, open source content management systems, open source cms, cms, web cms, web content management system.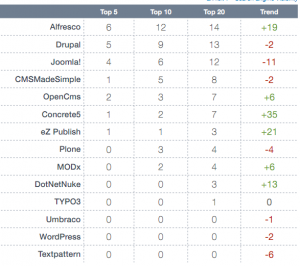 WordPress comes in near the bottom of the list. Based on previous market share reports, this is a statistic that has been a weakness for the project. W&S attributes this to the lack of SEO that has gone into the WordPress.org project website.
If you don't feel like browsing through the entire report which I highly recommend, the conclusion based on the survey results is that WordPress is the market leader. Water and Stone attributes the success of WordPress in 2010 to the release of WordPress 3.0, the continued popularity of WordPress.com and the growing awareness that WordPress can be used for more than just blogging.
A Few Questions I Have:
When reading this survey and others like it, the trend is to see Drupal, Joomla, and WordPress at the top of the list with (insert CMS here) coming in a distant fourth. Why are those three open-source content management systems in the position that they are? Most of the other systems in the survey are small potatoes. I don't know the goal of each project but what would it take for any of them to become the next WordPress, Joomla, or Drupal? Obviously, there are many aspects that go into a successful open-source CMS or project in general but what is it that the top three have that the others don't?