The Adobe CS4 Clean Script will help resolve installation problems experienced by users of Adobe Creative Suite 4 software. The script can clean up install records for any beta and pre-release installations of Adobe Creative Suite 4 or Point Products. The Adobe CS4 Clean Script is designed to not interfere with existing Creative Suite 4 products, but it allows you to specify if you wish to remove them as well.
This tool is intended to remove remnants of previously installed CS4 applications in order to enable installation of new CS4 components.  The tool is not intended to remove all the directories and preferences which might have been installed; there may still be some left. The goal is to enable subsequent installs which failed without this tool.
Please back-up all data prior to using the CS3Clean Script. This includes fonts, Version Cue repositories, plug-ins you may have installed and any other important files.
Before using Adobe CS3Clean Script, it is critical that you back up your hard drive including all data, content, software programs, etc. Failure to do so could result in a loss of the contents of your hard drive.
Adobe CS4 Clean Script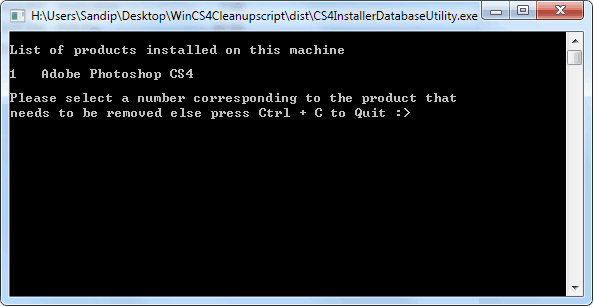 Download Adobe CS4 Clean Script for Windows.
Download Adobe CS4 Clean Script for Mac.
Similar Posts: