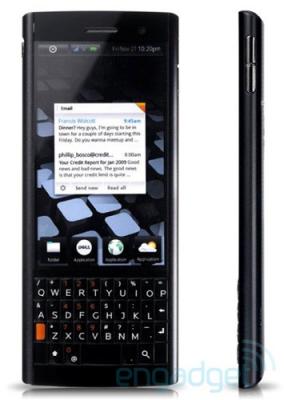 The recent Dell phone leak brought us a wide range of devices.  Some new and expensive. and some mid-range and affordable.  Another device that falls into the mid-range category is the new Dell Smoke.  The Smoke is another Android powered handset, but the highlight of this device is its unique non-traditional layout.  That unique look will remind you of the Palm Pixi, hence the title "Pixi-Like"  The Dell Smoke brings us the candy bar design, with a full front-facing QWERTY keyboard.  Dell is hoping this appeals to business users who do a lot emailing, text, and those that want to access documents on the go.  And it looks like Dell did pretty good job with this phone.
The Smoke will be getting Qualcomm's new, next generation processor, the 800MHz MSM7230.  This is the same CPU that I spoke about in the Dell Flash article.  And also like its counterpart, the Smoke will run on top of a custom Android 2.2 Froyo.  The Smoke will come with some modest specs, such as 512MB ROM and 256MB RAM.  It will have MicroSD slot that will handle up to 32GB cards.  It will also be getting the basic wifi, bluetooth, GPS, and 5 megapixel camera.  Dell is planning on making this a quad-band GSM phone that supports a 14.4Mbps HSPA connection.  By the time it's released the Smoke will have full Flash support, that will be capable of playing H.264/MPEG-4 video and also be able to stream it online.
The only trade off is the small screen the Smoke will apparently come with.  The long and slim candy bar shape, I mentioned, will allow the Smoke a 2.8-inch, QVGA with a 320 x 240 resolution, and of course it will be a touchscreen.  With the Smoke coming loaded with Froyo, it means Dell will not be releasing it until Q2 of 2011.  So we're looking at a full year before we get to play with this beautiful device.  This design is exactly what the Android platform has been missing.  Hopefully Dell will not change this too much before it's released, cause I'm really looking forward to it.  Do you like the design and layout of the Dell Smoke?  Leave a comment and let us know what you think.
[via Engadget]
Similar Posts: