Sony Headquarters – Shinagawa, Tokyo: At a recent press conference, the tech giant introduced the Sony Reader in collaboration with Sony Electronics Inc. USA, for the Japan market. The US, UK, Australia and New Zealand market has already seen six models of readers, while Tokyo saw the launch of only two models labelled, PRS-350 and PRS-650.
The 6-inch Pocket edition (PRS-350) and the Touch Edition (PRS-650), will be released on December 10 for the Japanese market. Sony further announced that the PRS-350 would be made available in Silver, Pink and Blue colors while the touch edition, PRS-650, would deliver Silver, Red and Black.

PRS-350 Pocket Edition:
1. 5-inch display with E-Ink Corporation's Electronic Paper Display
2. 2GB of internal Memory
3. microUSB port
4. Support for e-books and image files
5. 104.3 x 145 x 8.5 mm size, 155g weight
6. Price Tag: 20,000 JPY
PRS-650 Touch Edition:
1. 6-inch display with E-Ink Pearl Display
2. Memorystick PRO and SD cards
3. 2.5-inch audio out jack, support for music
4. 118.8 x 168 x 9.6 mm size, 215g weight
5. XMDF file format
6. Price Tag: 25,000 JPY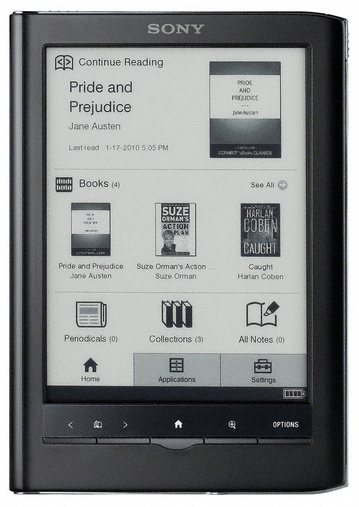 To make things spicier, Sony also announced the launch of a 20,000 book strong Reader Store.
via [Sony JP]
Similar Posts: