Wow, could this be the new smaller iPad that has been rumored to be in works?  Or is just another Chinese tablet clone?  Either way the story is cutting across the web like a buzzsaw.
Seems a Taiwanese celebrity and racer named Jimmy Lin has uploaded a photo that shows him holding both a real Apple iPad and in the other hand a smaller "mini iPad".  The picture is a bit blurry and there isn't a close up shot of the tablet, but at first glance the operating system on the mini iPad, looks almost identical to the real iPad.  It really looks like the iPad, just a shrunken down version of it though.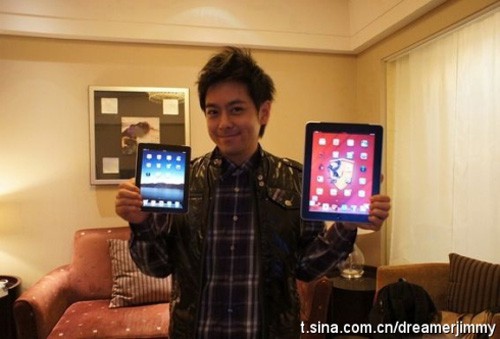 The Taiwanese popstar posted the picture on his blog, which is hosted on the microblogging service, Sina.  He goes on to brag that he has a "new toy iPad Mini".  So far Lin has not commented or elaborated further regarding the volitity of the tablet in question.
What we do know is that Taiwan and mainland China are known as the "clone capital of the world."  Almost all the tablets and iPad clones we see for sale are all made in that same area.  So the chances of this being a legit Apple device, are slim to none.  I bet when this is all said and done, it will turn out to be a fake!
[via phoneArena]
[source Akihabara]
Similar Posts: