For those users who have pre-ordered a Notion Ink Adam Tablet PC, we have some bad news for you. You might be hoping to get an early hand on the device, as early as January 2011. The company sadly announced, as it updated on its site, that the actual shipping date for the Android-based tablet would be pushed a little far but only by a few weeks.
For those of you who have pre-ordered the device, Mid-January 2011 is what we are hearing about the new targeted shipping date. Even though, the delay could have been furnished with some other reason, the company noted that due to some misunderstanding on the ordering page, the pre-order delivery schedule might have been mis-printed.

On the other hand, customers who had placed orders for the device were informed on various delivery dates in early January, with most of them getting 6th of January as the shipping date. Various companies have fell to this problem, but at least not with a reason stated by Notion Ink.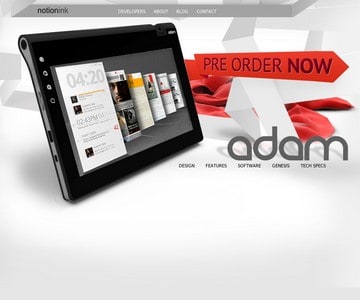 The Notion Ink Adam Tablet PC website noted:
Prior to December 15th, there was an error in this page due to which the shipping date was being calculated incorrectly. We apologize for the inconvenience. The date shown here is the correct value, which reflects the date shown at the time you ordered. This is our best estimate of the shipping date. The actual date may vary; we will keep you informed in case that happens. If you want to modify or cancel the Pre-Order, please contactpreordersupport@notionink.com
However, the company noted that a small number of users were provided with the wrong date. The company got in touch with those customers who were affected and resolved the issue.
via [Phandroid]
Similar Posts: