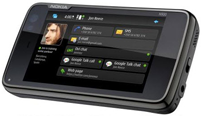 If you are Linux and Open source lover then Nokia N900 Maemo smart phone is the only gadget for you. Nokia N900 running Maemo Linux based OS has been hacked and tweaked to run Mac OS X &  Android in dual boot and now here is yet another beautiful hack for Nokia N900.
This time Aston of Lifenexus has managed to port Ubuntu Mobile 9.04 on its Nokia N900 phone. Though it's not actual port just modified the n810 methods to get it working on n900. The best part is you don't need to wipe Nokia Maemo to run Ubuntu Mobile 9.04.
Ubuntu mobile is booting from the SD card and you only need to select the OS you want to boot from Boot Menu.
Ubuntu Mobile 9.04 running on Nokia N900 Maemo Screenshots
Check out below video,

Similar Posts: