I wrote previously on securing a fresh WordPress install. Today, I'll cover several WordPress plugins that can be used with fresh or existing WordPress installations to enhance security. I'm not going to cover recovering a hacked site, or exploit scanning tools like Exploit Scanner or WordPress Antivirus in this tutorial.
As before, I'll emphasize a few things:
1. Your WordPress security is only as good as the security on your local computer. If you're not running good antivirus and anti-malware software or are using an insecure wireless connection, none of this will matter.
2. Likewise, if you're not keeping your WordPress install updated, none of this will matter.
3. I should have at least mentioned this in my previous security article but didn't: your WordPress security is also only as good as your web server's security. Since the audience for these tutorials is beginners, I'm going to assume that you don't have a lot of control over your host's security settings. So I'm not going to say anything else about this other than to look for a reputable host with experience hosting WordPress.
4. Make sure you're using a strong password. See step 2 of my previous tutorial.
5. I'm going to assume you already know how to install WordPress plugins.
NOTE: I'm writing this guide for WordPress 2.92, the current stable release. All of these plugins seem to work with WordPress 3.0, but I haven't thoroughly tested them.
WP Security Scan
Let's start by checking for the biggest security holes first, using the plugin WP Security Scan.
After you install you should see a new "Security" section on the left column of your dashboard: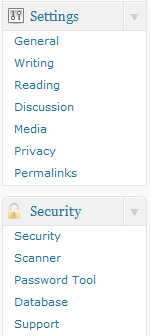 Let's click "Scanner" and check our file permissions, the most crucial of security settings in WordPress. Chances are everything will be shaded green, and everything's ok. However, if anything's not set correctly it will be highlighted in red. Changing file permissions is beyond the scope of this tutorial – contact your web host if you need to change anything.

Next, let's change our database prefix. This is a "security through obscurity" technique. What we want to do is make your WordPress database harder to exploit by using a database prefix other than the default one – this way any sort of generic, automated attack on the database will likely fail because the hacker will be using the wrong database prefix.
BEFORE ATTEMPTING THIS MAKE SURE YOU BACKUP. I can't stress this enough. I wrote a tutorial on backing up your WordPress tutorial. Even if you don't use the plugin I describe there, make sure you've got a good backup before proceeding.
If you followed my last security tutorial and changed your database prefix during install, you can skip this step.
Otherwise, click "Database" on the Security section. You'll see something like this:

If you see something other than "wp_" in the field labeled "Change the current" field, then you can skip the next step.
Change "wp_" to something else. It's highly recommended that you still keep the _ for database readability in the future, however.
Click "Start Renaming"
If this fails, you'll either have to change the database prefix manually or not at all. Manual changes of the prefix table are beyond the scope of this tutorial.
Secure WordPress
Next, let's install Secure WordPress. After you install it click "Secure WP" in the settings column of the left column of the dashboard. Most of the defaults should be fine, except one: if you're not planning on using Windows Live Writer, check the box next to that option and click "Save Changes."
WordPress Firewall
The steps above will help prevent attacks by hiding information about your WordPress install from attackers, making sure the correct file permissions are set, and plugging a few potential security holes. Next we'll install some plugins that actually stop attacks on your blog.
WordPress Firewall is a handy plugin for preventing a variety of attacks. This one is especially important if you weren't able to change your database prefix. It's quite simple – just install it. There should be no need to change the default settings. Important: WordPress Firewall has only been tested up to WordPress 2.8. It has not been tested with WordPress 2.92 or WordPress 3.0 beta 2.
Bad queries
Block Bad Queries, like Firewall, prevents hackers from performing certain common dangerous actions on your site. This one you just install and activate – there are no settings to change.
Chap Secure Login
If you're not using SSL to login (once again, beyond the scope of this tutorial), you can use Chap Secure Login to encrypt your password. This is especially recommended if you use a lot of different computers to access WordPress, or frequently use public wireless Internet connections. Chap is another remarkably simple plugin – just install it and activate it and you're ready to go. Note: you'll get a warning the first time you login after installing. According the plugin developers, this is to be expected.
Login Lockdown
Finally, we'll want to protect against brute force or dictionary attacks. In an out of the box WordPress installation, users can attempt and fail to login an infinite number of times. This means someone could try thousands of password combinations until they got the right one. Login Lockdown will ban users from IP addresses that have tried and failed to login too many times.
Install the plugin and click "Login Lockdown" in the "Settings" section. You should get an options menu that looks like this: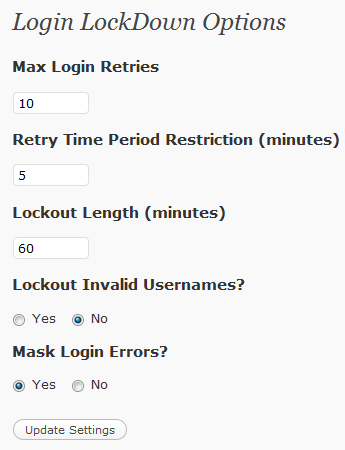 If you have a hard time typing your password correctly, you might want to set the "Max Login Retriess" a little higher.
I also recommend using the "Mask Login Errors" option. Normally, if a user types an incorrect username WordPress will return an invalid user name error. But if the user types a correct username but an incorrect password, WordPress will return an invalid password error. This gives someone trying to crack your password an extra hint as to whether they at least have the right username. If you use the "Mask Login Errors" option, WordPress will return a generic "username or password is incorrect" error instead.
Ask Apache
Many people swear by AskApache Password Protect. However, I have not been able to get it to work with my host. Your mileage may vary. If I understand it correctly, this plugin adds an additional password to the /wp-admin directory. If you allow open registrations and have lot of users logging in, you might not want to use this plugin.
Conclusion
There's still much more you can do, such as using .htaccess to protect directories, moving core WordPress files, and monitoring for exploits. Those are things we'll have to cover in the future. If you have need to harden things further now, please see the Hardening WordPress Codex entry. Remember no (usable) site will ever be completely secure, but if you've installed the plugins above your chances of getting hacked will be greatly reduced.