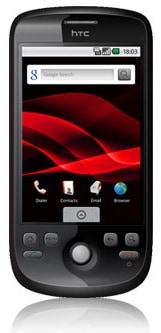 If you live in Canada and you own either a Rogers branded HTC Magic or Xperia X10, well then this good news is for you.  Today on Twitter, a Rogers support rep by the name of  RogersMary, confirmed that the Android powered HTC Magic and Sony Ericsson Xperia X10 will both be getting the official push to Android 2.1 Eclair.  I know with all the tasty Froyo going around, who would want an Eclair upgrade?
Well I know Rogers' HTC Magic owners especially do.  Back in January, with that whole 911 calling fiasco, Magic owners ended up having to flash an update that was Android 1.5 with Sense UI.  Many were unhappy with the mandatory downgrade, and the complaints were heard.  Now that's over with, Magic owners have the Android 2.1 update to look forward to.  The rep confirmed that HTC has the update in hand, and will send it to the Rogers people for testing in June.  Now that doesn't mean that any of you will see it June also, I figure Rogers will need about 3-4 weeks of testing before they push the update out to their customers.  It's still scheduled for a summer release, so July seems like a good guess.

On the Sony Ericss0n Xperia X10 front, the update is slated for a fall release.  The only problem with that is Fall could mean anything.  It could come in either September, October or November.  If we go by what the Rogers rep says, first she confirms that the Acer Liquid E will be shipping with Android 2.1 and the update for the X10 is expected to follow thereafter.  Rogers customers stay tuned.
[via MobileSyrup]
Similar Posts: