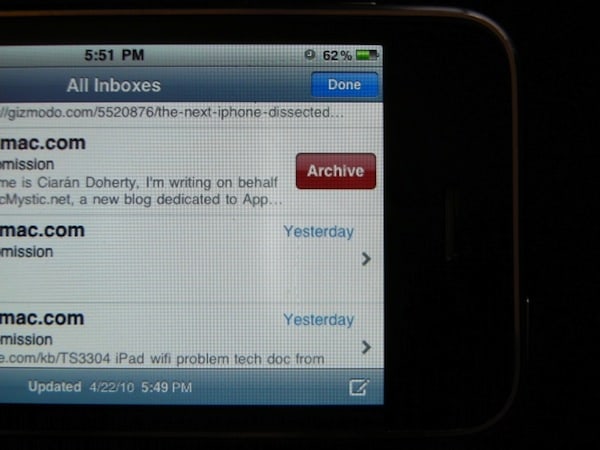 There have been many enhancements to the mail app in iPhone OS 4 including a unified inbox, multiple exchange support, threaded messages and fast switching. However, while all of these features are more than welcome, for Gmail users like myself, one highly requested feature has been the integration of Gmail's "archive" feature into iPhone's native mail app.
Luckily, as you can see from the screenshot above, our friends at 9to5mac noticed that Apple has finally given us our beloved "Archive" feature in iPhone OS 4. The feature is implemented for Gmail users the same way you would typically delete your message, by swiping your finger across the message you are interested in deleting, or in this case archiving.
In case your wondering, 9to5mac reports screenshots are not working in iPhone OS 4 beta 2, that's why the image above was taken with an HD camera instead.
[via 9to5mac]
Similar Posts: