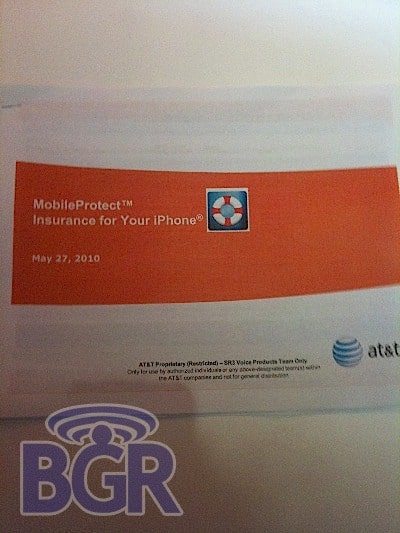 A Boy Genius Report story is showing proof that AT&T will soon begin to offer insurance for iPhones available for $13.99 per month available directly from the App Store. This seems to be more than simply a rumor with BGR getting their hands on the images above and below showing the carrier's plans for what it is calling their "Mobile Protect- Insurance for iPhone".  Apparently AT&T decided to launch the service due to the fact "lack of iPhone insurance is a leading source of iPhone related customer complaints."
BGR outlines exactly how the service will work:
AT&T will be launching a new insurance service, named MobileProtect, designed specifically for the Apple iPhone. The insurance plan, which will be run by Asurion, will carry a price tag of $13.99/month and will be available for purchased through Apple's App Store. The charges will be billed to the credit card on file with Apple. The deductibles range from $99 for an 8GB 3G to $199 for a 32GB 3GS, which is pretty steep – but not quite as steep as $699 for a new 32 GB 3GS off-contract.
[via BGR]
Similar Posts: