Iomega, the world leader in innovative portable drive storage introduced a set of USB 3.0 external SSD with storage capacity ranging from 64GB to 256GB. The latest innovation delivers great advantage to users looking forward to higher transfer rates through USB. The Super Speed USB 3.0 promise much more than what you expect while keeping up with older systems making it fully compatible to support USB 2.0 ports. The USB 3.0 SSD Flash drive is of the size of a iPhone.

Up to 10 times the transfer rate of USB 2.0, the SuperSpeed USB 3.0 allows the new drive to perform twice as fast as spinning 7200 rpm USB 3.0 drives. One drawback or limitation which we see is that, when connected to USB 2.0 ports, the drives convert to older form and operates at USB 2.0 speeds but on the other hand you need to carry an extra gadget to run on USB 2.0 and USB 3.0 supported ports.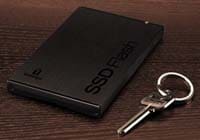 Another great advantage of carrying this SSD drive is the durability feature. All spinning drives have moving parts while SSD is secure. The SSD drive can easily sustain mishandling and damage while others fail. Iomega's 1TB eGO portable spinning disk can be dropped from a height of 7 feet and still be operational while the new SSD drives can be dropped from a height of 10 feet.
Iomega SSD Flash drive comes packed with Iomega's v.Clone software, one year of Trend Micro Internet Security software or Smart Surfing software, Iomega QuikProtect for backup, Roxio Retrospect Express for more customized hard drive backup and a 2GB of Mozy Online Backup service.
The gadget will be available in early November with a price tag of $299.00 for 64GB, $399 for 128GB, and $749.00 for 256GB. All Iomega products carry a three-year limited warranty.
via [PC MAG]
Similar Posts: