As a webmaster we are all concerned about the number of links that are coming into the blog and all the other stats that usually concern the traffic to the blog. However, another important thing we all miss to see is the number of outbound clicks from our blog to other websites.
Though this may not sound interesting to many people, it definitely holds some importance when you want to track links to sites other than your own site. One of the reasons I want to track this on my blog, is to understand and know what kind of software or services people download or visit, and then try and customize posts to include software or services that are liked by the readers.
Tracking outgoing links from your blog is pretty easy, all you need is a free Google Analytics account and the Google Analyticator WordPress Plugin.

Once you have installed and activated the plugin, head to the options page and scroll down to the advanced options till you see Outbound link tracking. From the available options, select "Enabled" and save the settings.
Once you do that, wait for a day till the tracking is available in your Google Analytics account. After that you can view the outbound links from your site by visiting Google Analytics and analyze it to understand what your readers are clicking on.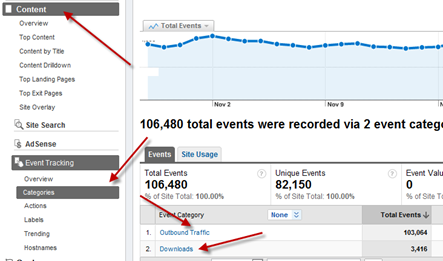 To view the outbound links, visit Google Analytics and click on "Content" in the sidebar. In the available options under Content, click on "Event Tracking" to expand it, and then click on Categories to see the Outbound Traffic from your blog.
Hopefully this should be helpful to you to customize your content and suit it to the needs of your users.