If you're a strong follower of our blog, you might have read my previous post on the Mac OS X which has been updated to version 10.6.5. Apple made some last minute changes dropping the option of AirPrint from Mac OS X 10.6.5 due to some patent issue.
Back in September, Apple CEO Steve Jobs, announced the brand new feature of AirPrint in iOS 4.2. AirPrint gives users the ability to print wirelessly. Users can order a print from almost anywhere via their Apple gadget from a compatible printer located anywhere.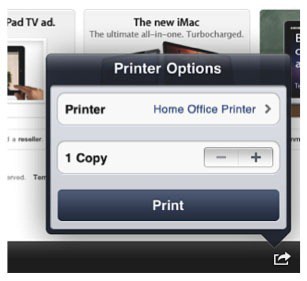 "When There Is A Will, There Is A Way",  is the quote I have always kept in mind, while exploring for options to benefit our readers. We have discovered a way which enables AirPrint on Mac OS 10.6.5. Follow the steps below to enable AirPrint support on your Mac OS X 10.6.5:
Step 1:
Download the pre-release build of OS X10.6.5 and copy the following three files from the pre-release build.
/usr/libexec/cups/filter/urftopdf
/usr/share/cups/mime/apple.convs
/usr/share/cups/mime/apple.types
Step2:
Copy and paste all the above file to the new version and add printer from "Print & Fax Preferences"
VOILA! The AirPrint option has now been made available.
via [Genius Geeks]
Similar Posts: