In past we have covered several promos of big software titles like Kaspersky 2010, Avira Antivir Premium 2009, PDF Password Remover etc. Now here is yet another Promo offer and this time it's Paragon System Backup 2010.
Paragon System Backup 2010 is simple, automatic and reliable backup solution for complete PC protection. It offers out of box automated backup. A single license of Paragon System Backup 2010 costs $24. But now you can grab Paragon System Backup 2010 – Release Candidate along with free product key and serial number for free.
Key Features and Benefits of Paragon System Backup 2010
| Features | Benefits |
| --- | --- |
| Intuitive user interface | System Backup is based on simplicity and minimal user participation. |
| Advanced notification system | Color indicators in the system tray inform you about the level of danger your system and data are in and prompt you with ways to fix it. |
| Set-and-forget backup strategy | Cyclic Backup establishs a self-running data protection system, providing a "set-and-forget" backup strategy. |
| Backup your entire PC | Out-of-the-box automated backup protects your system and data on a regular basis, immediately after the software is installed. |
| Smart backup engine | The Smart backup engine effectively distributes resources among other applications when backing up in the automatic mode — keep working on your computer while backing up without taking a performance hit. |
| Backup on-the-fly | System Backup saves your PC on-the-fly, without interrupting your current activity. You don't need to close any of your applications or restart the computer during the process. |
| Easy restore to previous state | System Backup restores a snapshot of your PC to the point when it last ran smoothly! |
| Fast recovery after system failure | Start the recovery process simply by clicking F6 key! |
| Selective restore | Easily extracts files and folders from a snapshot without needing to restore the whole PC. |
| Worry-free Paragon Recovery CD | Recovery CD provides the possibility to boot and recover your computer in case of a hard disk malfunction, a virus attack, or a system failure. Gain system access when no other methods are possible. |
| Windows 7 support | Full support for Windows 7. |
Grab Paragon System Backup 2010 with License Key
1. Go the Paragon System Backup 2010 promo page
2. Enter Your details and click on submit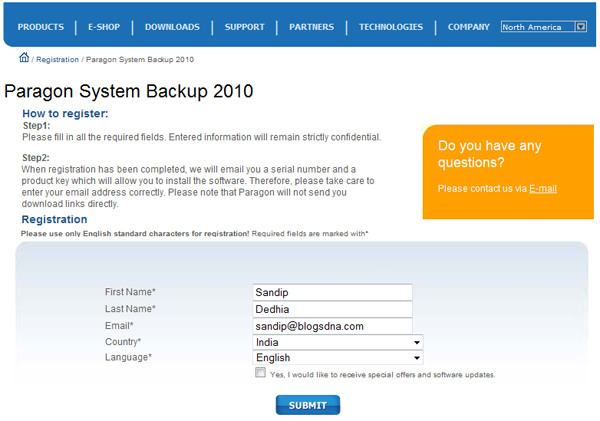 3. You will receive email containing Product Key & Serial Number.
4. Download Paragon System Backup 2010.
Similar Posts: