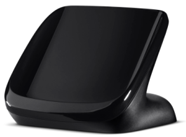 Few days back we had published rumored details of Google Nexus One Desktop Dock which was spotted on YouTube video. Now here is official details on Nexus One Dock from Google. A custom designed Dock only for Nexus One is available for purchase on Google online store.
The Nexus One Desktop Dock is an elegant place to charge your phone, on your desk or nightstand. Just drop your phone in the Desktop Dock, and the Clock app launches automatically, making it easy to:
1. Check the local time and weather
2. Set and clear alarms
3. Watch a slideshow of your photos
4. Play music
5. Dim your phone's display for nighttime use
We also include a 3.5mm-to-RCA audio cable that allows you to connect the dock to your stereo, so you can listen to your phone's music on your stereo system.
Google Nexus One Desktop Dock Pricing
The dock is priced at $45 and can be bought as a separate accessory from the online store, or bundled with the purchase of your Nexus One phone
Checkout complete Nexus One Dock Specifications here.
Similar Posts: