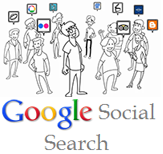 Social networking has become integral part of our life and not only we think this but Google also thinks so. Inclusion of Social networking results in search is clear indication of Google's belief in social connections is better than strangers.
Until now there was no way to control what you can see on Google's singed in personalized search result. But not now, here is a new service from Google, Google Social Circle which lets you to discover relevant publicly-accessible content from your social circle, a set of online friends and contacts.
You can now see list of your Social Circle Connection with type of connection like direct connections, secondary connections (friends-of-friends) or the content published publicly by each of those connections.
You control who is part of your circle. You can add, remove or block person from social networks, Gmail chat contact list. Add, remove links from Google profile.  Google Social Circle uses Twitter, Friendfeed, Google Contacts, Gtalk friend list to find social connections.
Watch Video Overview of Google Social Search
In order to view your Social Circle you need to login with your Google account.
So what you think about Google Social Circle, will it help you in your day to day internet activity or its invading your privacy?? Do let us know your thoughts via comments
Check out Google Social Search Features
Similar Posts: