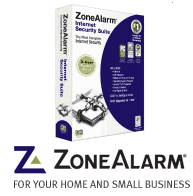 Having good firewall installed is the first step to securing your computer. Firewall is the must required security application to protect yourself from hackers, worms and trojan horse. Many antivirus software like Norton Internet security 2010 also comes with good firewall too. Another known name in firewall category is ZoneAlarm.
Sometime back we had covered ZoneAlarm Pro 2010 promo. Recently they released latest version of ZoneAlarm Firewall compatible with Windows 7, ZoneAlarm 9.1.007.002 Firewall.
Features of ZoneAlarm 9.1
1. Windows 7 operating system compatibility
New Browser Security toolbar:
1. Spy site detection
2. Signature and heuristic phishing detection
3. Website safety check and rating
Download ZoneAlarm 9.1.007.002 for Windows 7.
Source: Ghacks
Similar Posts: