Default browser which comes with Android phones doesn't have many features. There has been news that Mozilla is working on Firefox for Android. If you can't wait till Firefox for Android is made available then here is Opera Mini for Android though it's not Opera Mini 10 but its Opera Mini 5 Beta.
Opera has been under talk with major OEM to include Opera 10 mini with Android Phones. Till Opera Mini 10 come to android you can enjoy Opera Mini 5 which should work on almost all android phones.
The major differences in Opera Mobile and Mini include:
1. Opera Mobile will render web pages just like a desktop browser. In Opera Mini, there may be slight differences, and very complex Web pages may not work optimally.
2. Opera Mini will generally be faster. It downloads less content and requires less CPU to render pages.
3. Opera Mini works on almost any phone. Opera Mobile is only available for Windows Mobile, upcoming Android devices, and Symbian/S60 phones.
Opera Mini 5 Beta on Android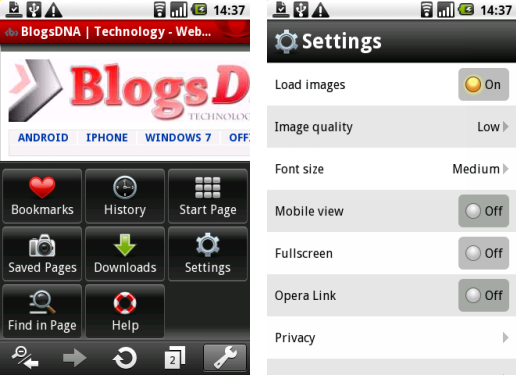 Opera Mini 5 Beta Reviewers Guide
Top new features of Opera Mini 5 include:
1. Tabbed browsing – Browse several Web sites at the same time, while easily jumping from one to another.
2. Speed Dial – Get to your favorite Web page with just one click, with a set of visual bookmarks when you open a new tab.
3. Opera Link – Synchronize your bookmarks and Speed Dial between your mobile phone and desktop computer.
4. Download manager – Manage downloads right from the browser. Pause and resume downloads to suit your needs.
Via AndroidandMe
Similar Posts: