A few days ago, something new showed up on each plugin page throughout the repository. This new box on the right hand side is a way of enabling the community to say whether a plugin is compatible with the newest version of WordPress or not. Normally, the plugin information within the FYI box tells you which version of WordPress is required and which version the plugin is compatible up to. Unfortunately, the version the plugin is compatible up to is not updated that often which is why some plugins which state that they only work up to WordPress 2.5 end up working with the latest release. If you have a WordPress.org forum user account, you'll need to log in in order to vote. The voting is simple. The first box enables you to select which version of WordPress you're running, including the latest version being worked on. The second box allows you to choose which version of the plugin you are running. After setting those two options, you click on the broken or works buttons to place your vote.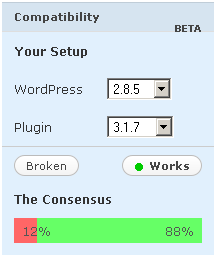 As per the screenshot, the majority of those using WordPress 2.8.5 with version 3.1.7 of the Google XML Sitemaps plugin reported that it's working. The beauty of this system is that it leverages the community in order to figure out what works with what. However, just because it works for the majority of users is no guarantee it will work on your particular setup. But using these statistics, it should make it easier to figure out whether the issue is with the plugin and WordPress or with your setup.
One of the biggest fears users have when it comes time to upgrade WordPress is whether their plugins will work on the newest version or not. There are a large handful of people who upgrade to the latest version of WordPress as soon as it's released and the hope is, these folks will visit the plugin page and report their findings for others to take advantage of. If more users see that their plugins work on the newest version, they are more likely to upgrade.
What are your thoughts on this system? Any ideas to enhance it?