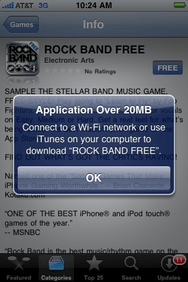 What does this mean for concerns surrounding AT&T's bandwidth limitations with the approaching release of the iPad?

With so many different media outlets and bloggers raising concerns over a ton of different issues with AT&T's bandwidth on their 3G network, news that 3G download limits have increased from 10MB to 20MB is good news for developers and users alike.
Most of us were under the impression that the original 10MB limit on 3G networks was only in order to avoid slowing down the network for all cell phone users. However, while some might argue that this recent increase is only to accommodate apps for the upcoming iPad which will more than likely see some apps with larger download files, there is evidence that bandwidth limitations are not exactly as AT&T wants you to think.
Apple and AT&T finally lifted their restriction of VoIP calls over 3G, allowed the new HD Slingbox app, and now have increased the limit of 3G downloads from the App Store and iTunes. It would appear that the limitation claims of AT&T for their 3G networks may have had more to do with restricting apps that would undermine their and Apple's best interests. Either that, or AT&T has actually made significant strides towards improving their network, which is obviously unlikely due to the number of complaints so many users are still having.
What do you think about AT&T decisions regarding restricting certain apps over 3G networks?
Similar Posts: