Technology seems to be upgrading every other day, with almost all ideas including gifts, switching to the digital craze. Amazon launched a service which allows customers to buy e-books for e-reader owners. With the newly unveiled service, users can now gift e-books from Amazon's site by just providing the recipient's email address. The tech giant tagged a line for the service, "Wrapping a book isn't that difficult, but not wrapping it is even easier." The Amazon site displays "Give as a Gift" icon, with which users can purchase and send books to e-readers.

To top it all, the service is not Kindle specific. Amazon allows users to send a gifted e-book on any mobile device but it would need to have the Kindle application installed. The Kindle app is available for the Apple iPhone, iPad and iPod Touch as well as RIM's BlackBerry and smartphone's based on Google's Android OS. The app is also available for Windows and Mac PCs.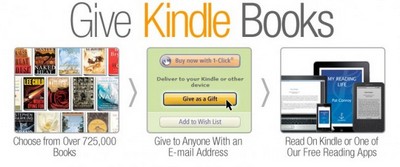 All you need to do is choose a book, click the "Give as a Gift" button, add the recipient's email address and you are done. Amazon would forward an email notifying the person that a gift is waiting to be downloaded.
Amazon reports that its e-book sales have grown at more than 193 percent last year. With the company rolling in this new service, it has a strong view that users would flock to avail this new service. The company would also be offering an exchange program which would offer a gift card to anyone who receives a gifted e-book they don't want.
The Amazon Gift service is currently unavailable as the company told:
We're making this functionality available in time for the holidays to offer an easy, stress-free holiday shopping option for anyone — not just Kindle owners.
via [PC MAG]
Similar Posts: