In past we had covered several articles on Yahoo Messenger 10 as well as Mac OS X skin for Yahoo Messenger 10. Now here is yet another skin for Yahoo Messenger. If you are a designer then this skin is for you. Here is Adobe CS4 Adobe CS4 Essitials Skin for Yahoo Messenger developed by magnumhearted Deviantart user.
Adobe CS4 Skin for Yahoo! Messenger is compatible with Yahoo Messenger 10 & 9. To install this skin you just need to installer.exe which copies all files to installation directory for skins. ("…\Program Files\Yahoo!\messenger\skins\").
In order to activate Adobe CS4 Essentials skin using the marble on the left of the minimize button
choosing the Y! CS4 Image or from Messenger > Preferences (Ctrl + Shift + P) > Appearance > Change Skin > Choose "Y! CS4…"
Adobe CS4 Essentials Skin for Yahoo Messenger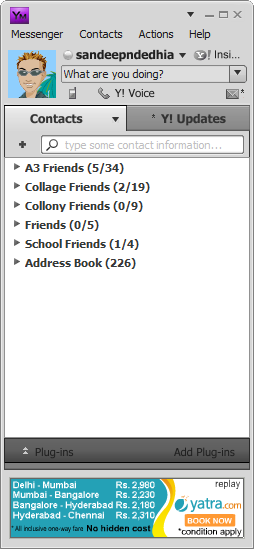 Download Adobe CS4 Essentials for Yahoo Messenger.
Similar Posts: